Cherryville Criminal Defense Attorney
In North Carolina, committing a criminal offense can change your life forever. If you are convicted of a misdemeanor or a felony, you can face serious charges that can land you in prison and require you to pay sizable fines. Not only that, but you may be made to pay further restitution fees or complete community service, attend classes, or stay at a treatment facility. Once you've completed your sentence, your future may further be complicated by the impact a criminal record has on your job prospects, housing options, and your status in the community.
Sometimes, people are charged with crimes they did not actually commit or, in fact, committed due to circumstances outside of their control, such as coercion. If you have been charged with a felony or a misdemeanor and believe you were wrongly accused or want to explore your rights and options in the face of the charge, you should speak with a Cherryville criminal lawyer as soon as possible.
The Law Firm of Brent D. Ratchford is dedicated to ensuring that you fully understand your rights under the law and that if your case goes to trial, you are innocent until proven guilty beyond a reasonable doubt. We are determined to help anyone who has been charged with a criminal offense protect their reputation and their future goals, and we promise to honestly and thoroughly investigate your case so as to explore all avenues for your defense. Our mission is to aid you in avoiding a conviction altogether or affording you a lesser sentence that will impact your life in better ways.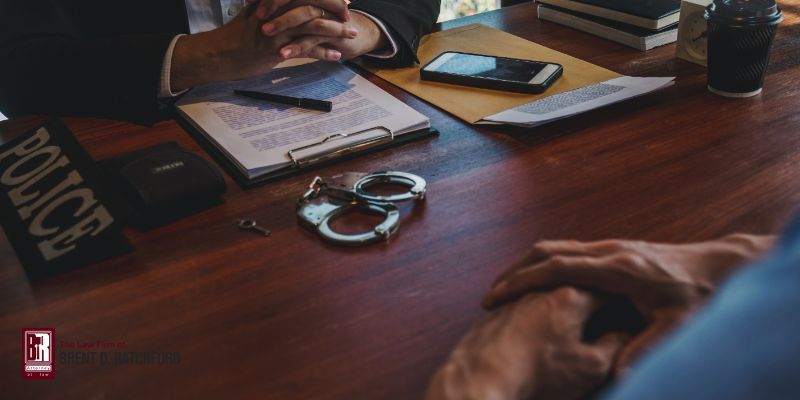 Criminal Law in North Carolina
Criminal law in North Carolina encompasses acts of unlawful conduct, which include the following:
Theft
Identity Theft
Assault
Domestic Violence
Sex Crimes
Murder
Kidnapping
Conspiracy
Tax Evasion
Fraud
Embezzlement
Computer Crime
Drug possession, manufacturing, and trafficking
Some criminal acts in North Carolina are considered violent crimes, such as assault, domestic violence, sex crimes, drug trafficking, and murder. Because violent crimes are often more serious under state code, it follows that they often come with a harsher penalty in terms of prison time, fines, and rehabilitation. All the details surrounding the crime and leading up to it will be revealed during the trial so that the judge can make an accurate and informed ruling based on the specifics and the severity of the act, as well as any prior offenses. Felonies and Misdemeanors in North Carolina fall under the definitions of "serious" and "most serious."
North Carolina does have what is known as a "three strikes" rule, but it goes by a different name: "habitual felon." This rule states that if a person has already committed and been convicted of three or more felony charges in the state, they will then face more severe penalties, such as increased prison time and fines.
What Consequences Can a Person Face for Committing a Crime in Cherryville, NC?
The consequences following a criminal conviction in Cherryville, NC are numerous. Not only could you face fines and jail time, but depending on the specific crime, you may also be required to:
Pay restitution to victims of financial harm
Have your driver's license suspended in the wake of a DWI conviction
Register as a sex offender
Lose constitutional rights such as owning a gun and voting in local, state, and national elections
Complete community service
Complete mandatory treatment for drug or alcohol addiction and abuse
Crimes also carry something called "collateral consequences," meaning once you have a criminal record, this stays with you for life and may alter or eliminate opportunities you once had. For example, government programs like SNAP limit eligibility or decline for convicted criminals, employers may be reluctant to consider you for a position with their company, your housing may suffer because you either cannot qualify for a loan or your application is rejected by a property manager, and your career in fields such as the military, real estate, law, medicine, and other licensed professions will be derailed.
The Value of a Criminal Law Attorney in North Carolina
A dedicated criminal law attorney who is passionate about your rights under the law will make an immense difference in your defense and in your future. Brent D. Ratchford is a criminal law attorney with years of experience in felony and misdemeanor defense and DWI violations, and he maintains a compassionate, informed perspective on his clients' circumstances and unique needs. Regardless of your situation, being charged with a crime does not mean you should lose the right to honest, compassionate, and aggressive representation that will help you secure a brighter future for yourself and any loved ones you care for.
Clients who choose to hire a criminal law attorney who can advocate for their rights are facing a terribly stressful and emotionally devastating time in their lives. Sometimes good people make mistakes or are in the wrong place at the wrong time. If you decide to put your trust in criminal law attorney Brent D. Ratchford, he can approach your case with respectful, hands-on treatment and can give you honest and straightforward insight into your options. Whatever your circumstances, you deserve empathetic representation and advocacy so that you can move forward with your interests in mind.
FAQs About Cherryville, NC Criminal Defense Laws
How Much Does a Criminal Defense Lawyer Cost?
Attorneys charge an hourly fee but also may require a client to pay a retainer fee for at least ten hours of work. Hourly fees depend on the firm and usually cost between $200 and $500 per hour. A defendant will likely pay approximately $2000-$3000 in legal fees if their case goes to trial and they have committed a misdemeanor; in the case of a felony that goes to trial, an attorney may ask for $2000 – $3000 in advance and about $1000 per day during the trial to cover costs.
What Is the Difference Between a Felony and a Misdemeanor?
These two terms refer to the seriousness of a crime: a felony is an extremely serious crime and carries long prison sentences, usually over a year. A misdemeanor, on the other hand, is a less serious crime, so it will carry a shorter prison sentence. Both are broken up into different classes.
Misdemeanor prison sentences are as follows:
Class A: A maximum jail sentence of 3 years and up to $2,500 in fines
Class B: A maximum jail term of 2 years and up to $2000 in fines
Class C: A maximum jail sentence of 1 year and up to $1000 in fines
Exempt: typically associated with a jail term under 12 months and fines of at least $500, although this can vary, as it has no specific classification.
Felony prison sentences are as follows:
Class A: Maximum prison term of 30 years
Class B felony: A maximum prison term of 25 years
Class C felony: A maximum prison term of 20 years
Class D felony: A maximum prison term of 15 years
Class E felony: A maximum prison term of 10 years
Class F felony: A maximum prison term of 5 years
Exempt felony: No specific classification or set of penalties because, for instance, a murder conviction results in a lifetime sentence, while some felonies carry a maximum one-year prison term and a fine of up to $500.
Should I Get a Public Defender for My Criminal Case?
A public defender may not have the qualifications, skills, and experience that a long-time criminal law attorney can offer. They are often overburdened by excessive caseloads and may not be able to give you the time you need to understand your defense options and truly dig deep into the details and circumstances of your case in order to adequately and successfully defend you. It is in your interests to seek the guidance, counsel, and advocacy of a seasoned criminal law attorney and the resources available to them that will help you either avoid conviction and a criminal record or decrease the severity of your sentencing.
Why Might Defendants Prefer Private Attorneys Over Public Counsel?
Many defendants wish they had chosen private criminal law firms because they have dedicated their careers to helping defendants get positive results so they can get their lives back on track. They have also spent significant time learning the intricacies of criminal law investigation and litigation within their specific state as well as within the local community and are much more willing to bring a case to trial because of their extensive experience defending a multitude of different misdemeanors and felonies. Moreover, this will further protect your rights, as you will not feel pressured to take an undesirable plea deal instead of working toward a reduced sentence or the elimination of the charges.
Contact The Law Firm of Brent D. Ratchford Today
If you are facing criminal charges for a misdemeanor or a felony crime in Cherryville, NC, you should contact an attorney who works in criminal law and litigation as soon as possible. At The Law Firm of Brent D. Ratchford, we have successfully represented clients, and we can put our experience to work as we advocate for your rights. Get in touch with us today to schedule a consultation.